Guide
How to Design Learning Analytics
In this guide, evaluate the process of leveraging learning analytics to inform data-driven decision making in enterprise training.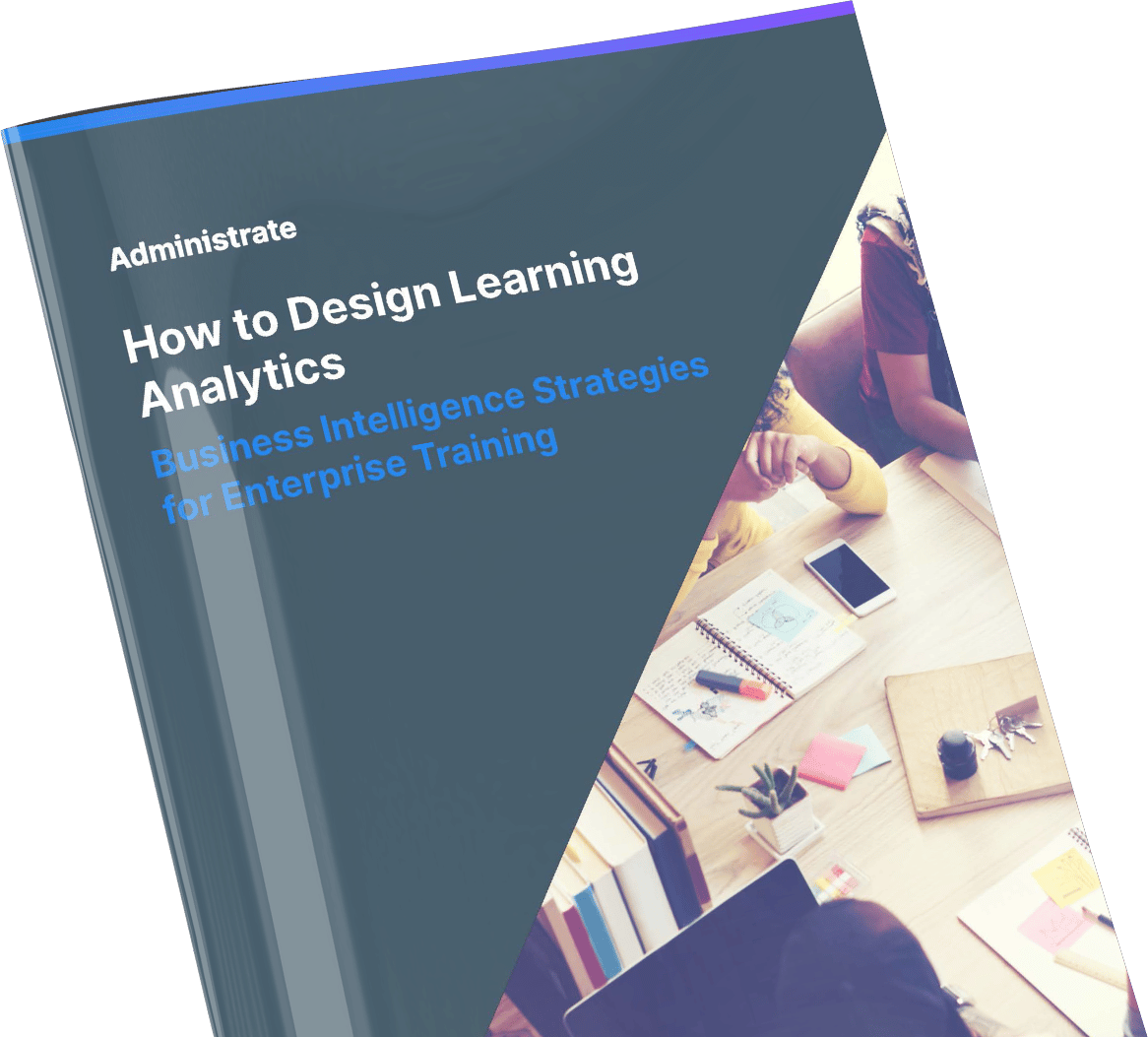 The Keys to Connecting Training Outcomes to Business Objectives
Demonstrating training ROI has always been elusive, but with learning analytics for education technology, it's possible.
Training teams can deliver impressive results for business, but often struggle to show exactly how they reduce employee turnover, empower the best talent, and increase customer satisfaction.
You can start where you are, using training metrics you have on hand to lay the foundation for a learning analytics framework. Showcasing the correlation between training outcomes and business objectives is possible, and you'll explore how in this guide.
Download this guide to discover:
The six attributes of learning analytics and how to apply them.
Insights from training leaders on leading the conversation for data-driven training.
Tips for applying BI strategies to training metrics you have today.
Create Reports the Show Training ROI
Administrate's software helps people like you.
FAQ Section
Learning analytics is the process of measuring and analyzing training data to establish a practice of data-driven decision making for enterprise training teams. In order to infer reliable decision-making, learning analytics rely on comprehensive data and insights from multiple sources, whether that be from your learning tech like an LXP, your LMS, or other proprietary systems, or from critical business systems like HRIS, ERP, and GRC software. When data is shared between these systems, and aggregated in one central hub, like a training operations platform, it's possible to build reports that inform decisions.
If you're looking to tell the story of your training team's impact on the organization, chances are you'd like to demonstrate ROI. Building reports to do so is often a challenging, manual process that relies heavily on spreadsheets and coalescing data across systems and business functions. With learning tech platforms, like Administrate, it's now possible to generate reports in one system because of data pipelines that share and pull insights from multiple sources while appending that data to the custom fields you create in the platform. Now, you can build reports that quickly demonstrate ROI.
The key features of learning analytics are directly aligned with helping training teams tell the story of their impact on the business. Most importantly, it should be possible for your team to rapidly interrogate your data, efficiently build reports, and distribute those reports to key stakeholders automatically because decision-making often needs to happen in real-time. So, when you're looking for ways to maximize your data, you should focus on powerful reporting engines that can provide measurable, repeatable, actionable, relatable, and, most importantly, oriented-to-ROI insights.