"Business and human endeavors are systems…we tend to focus on snapshots of isolated parts of the system.
And wonder why our deepest problems never get solved."
Peter Senge | The Fifth Discipline: The Art and Practice of the Learning Organization
Training operation – or training management – is as old as learning and education itself. I like to think that Aristotle and Socrates probably had a few assistants on hand to let pupils know when and where their next session might take place. Other cultures took the management and regimentation of training to extremes that are unmatched even today. For instance, the examination system of the Qing Dynasty in China involved large exam compounds capable of accommodating more than 20,000 hopeful scholars over their week to 10 day series of exams. The bureaucracy and logistics involved in grading multiple thousands of long-form essays in a double-blind manner are impressive in any era.
More recently, training ops have taken a back seat to learning management, and the industry of more than 1,200 LMS solutions on the market today bears witness to the priorities of the training industry.
What exactly are training operations, and how does it differ from learning management? What role do they play within a modern, dynamic organization?
Organized Operational Excellence
The foundation of training operations is a training operations platform: software infrastructure that provides clear, consistent organization of all the pieces required to deliver successful training.
The learner is just one part of this puzzle. Indeed, in many ways, the learner is the easiest part to keep track of. A well-organized training organization harnesses resources to drive toward its goals in a clear, logical, and consistent manner. These resources run a wide range – everything from people to physical assets to electronic aids and tools.
Whether we're talking about a global business enterprise training employees, a valued software training customers, or a training company that provides professional education services, as a rule of thumb, successfully managed training operations should spend less than 10% of their administrative team's time on activities like scheduling, reporting, awareness building, or communicating. This time should also be "capped" – after a certain point, it should not require much administrative investment (if any) to run additional courses or training sessions.
When we started there were two people running ForgeRock University – myself, and I had one person doing the curriculum. We've since grown to run a global training team delivering millions of dollars of training with very few heads, and nearly everything is done by tools.

Kevin Streater, Vice President | ForgeRock University at ForgeRock
An important and often overlooked component of training operations is the relationship between a well-organized program and the learner's perception of quality (think learner and employee engagement).
---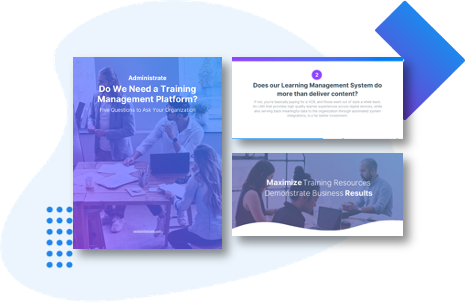 Curious about whether or not a training operations platform is right for your training program? Ask the five questions in this guide as you begin your inquiry.
---
This relationship cannot be understated and becomes even more important as the stakes of the training increase–more expensive or more critical training must give learners the perception they're participating within a highly-organized, well-oiled training management machine, or they'll rate the quality of their experience poorly.
You can have great content, great instructors, great technologies, great classrooms and facilities, great materials, etc., but if the fundamental processes associated with the experience a learner goes through before accessing the training and after the training is completed are not done properly, the student's perception of the quality of training could be negative.

Doug Howard | What Makes a Great Training Organization?
Unfortunately, this fundamental relationship is often poorly understood by training leaders, or, if understood, usually ignored.
How do employees engage with prescribed learning paths, and how does this lead to talent retention? What role does learner engagement play in customer success, partner competency, or product adoption metrics? And how can a well-run training operation maximize results on these types of metrics?
A fatalism plagues many training departments – administrative overhead is an inevitable annoyance, and more investment seems to never really translate into better outcomes. Frustratingly, we're caught between two dueling forces: we're constantly having to defend the efficiency of our administrative overhead, while at the same time we have to consistently harp on the need to do more with less.
Ironically, only 23% of the respondents in our research viewed administrative services as a critical process capability for training organizations to be viewed as high performing. Instead, they view administration as a support function that helps facilitate the more critical and core elements of training. Yet our experiences tell us that administrative services are the bedrock of a great training organization, providing feedback and making sure programs are scheduled and delivered as planned, with little disruption to the student or instructor.

Doug Howard | What Makes a Great Training Organization?
Ultimately, training operation platforms exist because they act as learning learning tech infrastructure – the foundational piece that connects training to the rest of your systems. There is a fundamental requirement for a well-organized, well-run training program, and training operations platforms help achieve this efficiency.
The best systems were born within training organizations frustrated with the lack of attention given to these fundamentals, and these systems will exhibit a strong background of attentiveness paid to the operational imperatives that ensure exceptional training delivery.
Benchmarking a training operations platform means stepping outside of the realm of learning management and into a landscape that will involve not only how your team works, but how your department works relative to the rest of your organization.
Where are the correlating lines of connection that demonstrate how training impacts the business as a whole?
Catalog Management
Most training programs of any scale will have a rich catalog of offerings, often segmented by audience:
Internal employees
Customers
Partners
The general public
Within that segmentation, there are likely additional levels:
Business unit
Job role
Supplier (internal offerings vs. external)
The market.
These catalogs can often live in separate systems, some of them specific to the course being taken, but often these systems have been accumulated over time through different regimes, acquisitions, or simply because it was easier to bring in a new system than grapple with incumbents.
---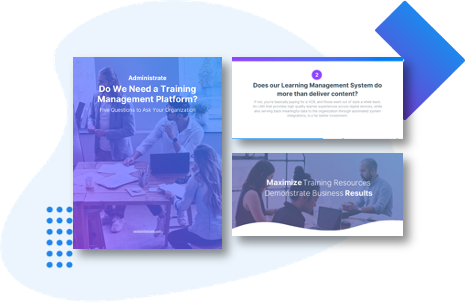 Curious about whether or not a training operations platform is right for your training program? Ask the five questions in this guide as you begin your inquiry.
---
Fragmentation leads to confusion, confusion to waste, and all of this ultimately will contribute to poor outcomes and a loss of agility and flexibility for the training team. A quality training operations platform will provide a robust catalog that can be segmented, filtered, support multiple modes of instruction and delivery, and serve as the focal point for your offerings.
In addition to building out your catalog as a description of available training, you should also be able to begin templating various resources that a specific class or course will require. These templates serve as a building block for not only what is required, but help you with scheduling and understanding the interplay between different resources. Templating also forces you to formalize what might only exist within your training team's heads–exactly what is required to keep your operation going.
People Management
People are the main focus of any training operation in the form of learners, but they're also the engine that keeps everything running. Being able to build a database of the people and organizations you interact with is critical to a well-run operation, and is something that is sadly often lacking within modern training environments.
We see customers thinking about their people within a few broad categories:
The core administrative training team
Instructors – From the core team, from elsewhere within the organization, or from external partners or suppliers
Learners
Managers/Approvers – these may never take a class, but can affect how and when learners engage with you
Partners – this can be broken down to partners who assist in the delivery of training, or partners of the business that require training themselves
Resource Management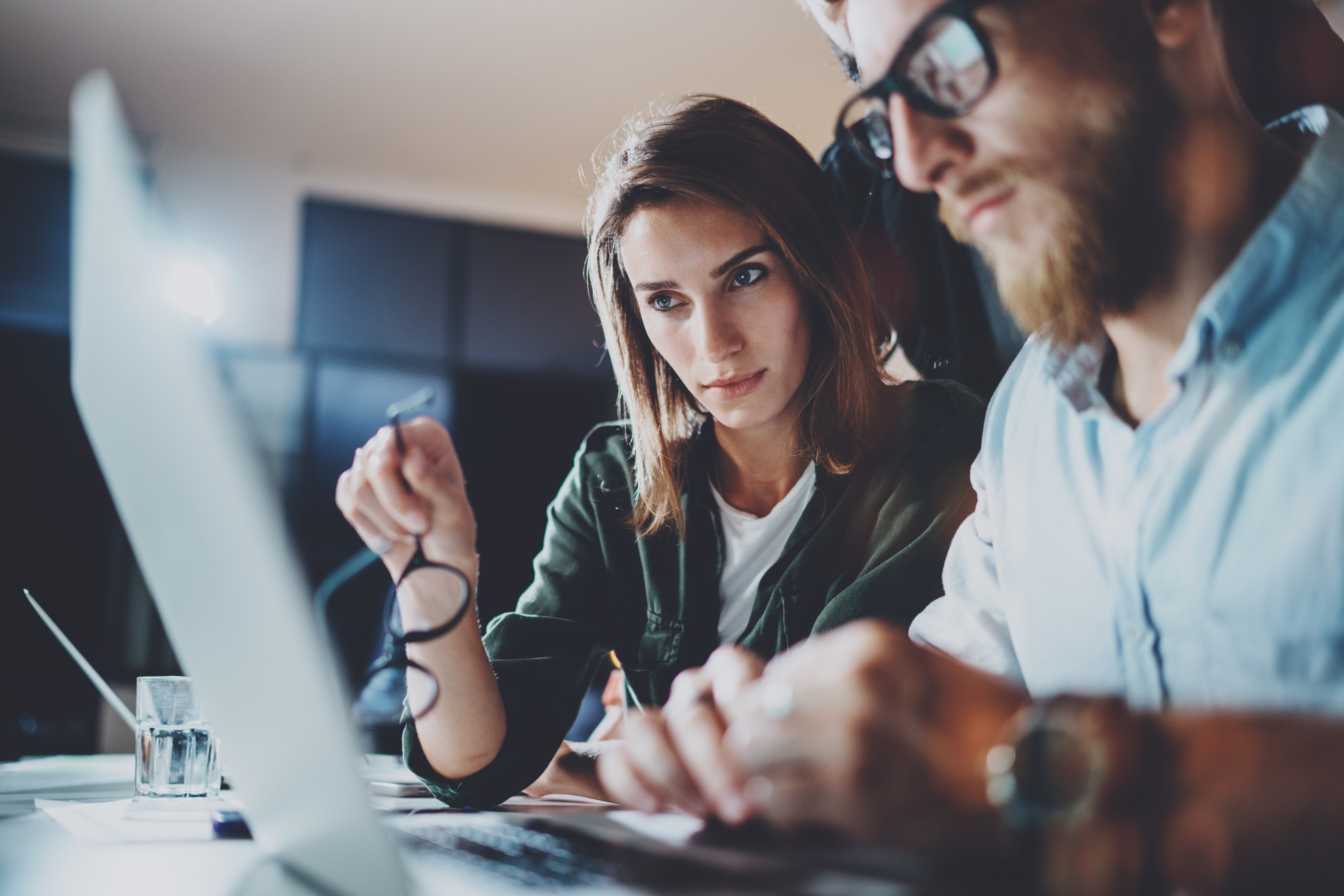 One of the primary challenges (and a key shortcoming of traditional Learning Management Systems) with managing training, particularly training at scale, is the coordination of required resources.
For some, that means tracking textbooks, meeting rooms, laptops, and other audiovisual equipment. For others, that means multi-million dollar simulators, specifically qualified personnel, or training rooms that have equipment that must be configured.
What is a training resource? What are the ways in which they can be organized and viewed so that accessing them and leveraging them for training is easy?
No matter the use-case, training operations platforms will help you:
Define your resources in the terms you think of them. Custom, structured information like serial numbers, capacities, and other metadata that may be important, should be easy to model (and ultimately report on).
Schedule your resources and manage conflicts and constraints. We see customers generally think of resources in two different ways:

Those who are focused on making sure they don't run out of a resource (for example, a classroom – we want to have enough of them to support training).
Those who want to make sure they're maximizing resources as much as possible – think simulators or very expensive training equipment that has large capital and maintenance costs with minimum downtime.

Report on your resources. Believe it or not, most training teams don't have good visibility into the resources they have, or can't access all of the data they want, particularly at scale. Our customers often use resource reports to monitor utilization, maintenance intervals, make sure insurance and risk registers are up to date, and present records to third party auditors.
A huge waste area for training organizations is to have low capacity of classrooms, thus wasting dollars on instructors not being fully utilized or materials that get thrown away. An even worse area of waste is students showing up for training and the materials or facilities not being ready. 

Doug Howard | What Makes a Great Training Organization?
Building Awareness
Building awareness of what training you provide, and how it can impact the organization is one of the most difficult jobs for training teams, and one we believe should occupy a significant chunk of mindshare on a day-to-day basis. Strategically,  providing the right training to the right people at the right time is only half the problem – building the appropriate awareness, so that you have the opportunity to impact learners, is equally challenging.
Are there opportunities for the training operations to directly correlate company objectives to certain training initiatives? If so, how can that be leveraged in order to build awareness around why those training initiatives are valuable to the organization?
A Platform for Embracing Accountability
One critical function you must provide as a leader of the business is the ability for the greater organization to hold itself accountable regarding training. Far too often we find that training teams struggle to present a coherent picture of what's available, what's required, and where teams and individuals are in their learning journey. The training team needs to provide a platform that facilitates and allows every member of the organization to take ownership and accountability for their learning journey.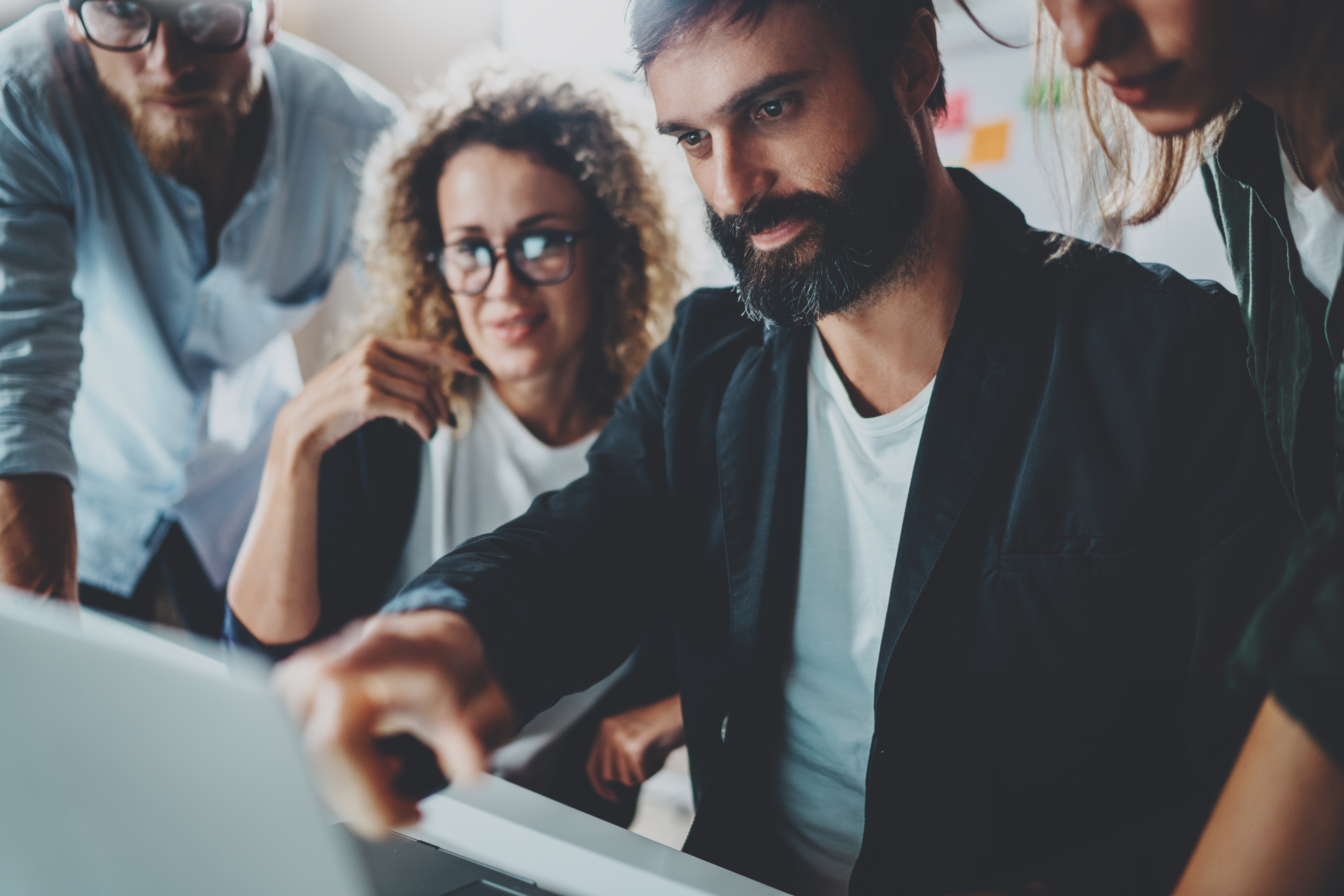 Visibility and Transparency
Training operations platforms bridge this accountability gap and help the training organization provide the definition around what's required, and who is accountable.  This is important for always-critical (and high-risk) compliance training, but it's even more important for training designed to improve performance or support business objectives.
For Learners
Learners should be able to easily access the catalog of training that's offered, learning paths that they need to complete (based on job role, department, or other criteria), and see their progress. This experience should be as frictionless as possible. One simple example of a common friction point that should be removed is forcing learners to remember yet another username and password – make sure they can sign in with their corporate credentials using Single Sign-on.
---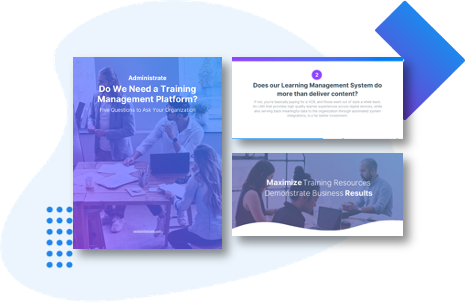 Curious about whether or not a training operations platform is right for your training program? Ask the five questions in this guide as you begin your inquiry.
Get the Guide
---
For Managers
Management at all levels needs visibility into how their teams are progressing on their learning journey (both required learning and optional). To whom are employees more accountable? Their direct boss, or someone in HR or training who may not even be located within the same city? Yet one of the most common failings we see within a typical training landscape is a total lack of manager visibility. A training management system should provide this visibility and allow management to not only see what's available but also submit requests for additional training they feel is required.
For Partners
Partner success is highly correlated with the effectiveness of their training and is therefore a key component of managing a successful training operation. This is particularly true when onboarding a new partner, or launching a new initiative.  However, despite this and the criticality of most partnership initiatives, partner accountability relative to training is often much harder to achieve for training teams.  Training should be viewed as a leading indicator of partnership success. The training team should be empowering partners and the business to understand how well they're doing, and provide the opportunity to head off any training related shortcomings.
For Suppliers
One often overlooked area of low accountability tends to be a training team's suppliers. Do your suppliers know how they're doing? Relative to similar suppliers?  Does your team? These questions should be asked and answered regularly and will help your suppliers improve.
Accountability Drives Efficiency
One seemingly counterintuitive advantage of providing accountability and ownership is that training volumes tend to immediately increase. Now that they're responsible for their training and can see what's required and what's available, leaners and managers will engage much more proactively. It is not uncommon for our customers to report that vacant seats within their live classroom offerings vanish after implementing a training management system. Higher learner volumes with a lower per-seat cost – What's not to like?
Scheduling
Often when we discuss scheduling in the context of training, teams are simply talking about the date and time of a class. This is an outgrowth of the limitation most learning systems place on scheduling – they don't provide much more than calendar functionality.
Instead, when considering scheduling, we suggest thinking in terms of your scheduling strategy. There are three main strategies that training teams tend to employ, and the most successful teams often mix and match their strategies based on available resources, business priorities, and cost or revenue goals. In short, the better a team understands the broad concepts behind the Theory of Constraints, the better they will be able to design and implement an appropriate mix of scheduling strategies.
Just in Time (JIT) Delivery – designed to make training as easy to obtain as possible, this strategy is usually employed when class sizes are small, training value is high, or the value of the time of the learner is high. Training is scheduled in response to ad-hoc requests and often may proceed with very small class sizes. To deploy this strategy you need to have clear prerequisites, a streamlined request and approval process, and a crystal clear view of your existing resource commitments.

Optimized Fill Rate – for commodity training, or for training that must be regularly refreshed, this strategy is used by training teams to make sure they run classes that are full of students, maximizing their instructor, classroom, and other resources.  In this scenario, resource costs (such as instructors or classrooms) tend to not be fixed, hence the desire to make sure when utilized, the learner fill rate is as high as possible.
Maximization of Resources – when an idle resource costs money or incurs a significant opportunity cost, you'll want to make sure that resource sees maximum usage. We see this a lot with expensive training that is mission-critical and requires a significant and expensive hands-on component – simulators, lab environments, or specialized practice environments (such as a swimming pool or other type of equipment).
Blend of the Above – almost every training operation will employ multiple strategies when it comes to scheduling, and that's part of why the flexibility of how you schedule is so important.
"The event scheduler template is excellent. Normally it would take me about 30 minutes per course–checking holidays, adding each date and time, etc.–when scheduling something that recurs weekly over a given time. Now, I can do the entire course schedule in about 20 minutes."

Paul Almond, Manager of Information & Technology | TSW Training
Integration and Automation
Once a training operation reaps the benefits of getting organized, and understands where all the moving pieces are–and how they fit together–it's time to integrate that operation into the rest of the existing tech stack, and at the same time explore opportunities for automation. In fact, it's rare to encounter a training team that wouldn't benefit from better integration with the rest of the business, but this is also a major challenge point for most training departments. Most learning management systems aren't designed to facilitate deep integration, and more importantly, simply lack many of the scheduling, resource, and people management concepts that could benefit from deeper integration.
Tech Stack Integration
Our customers often integrate their existing LMS and other proprietary software with mainline CRM or HR systems to share learners, administrators, and manager information. This prevents a lot of manual duplication and builds in automation that can see changes to these systems (like a job change or a hire) trigger the provision of specific training requirements. Integrations with calendar and scheduling systems often feature for resources such as classrooms or key training hardware (like simulators). External partners requiring training (we often see this in franchise models) usually exist in a separate system as well and can benefit from integration.
In order to be truly effective managing your training, you need to find a way to work with these other systems, not fight against them or resign your team to being human data loaders armed with a schedule of spreadsheets that need to be transferred back and forth. These integrations take time and planning but will set the foundation that will provide scalability and low-cost growth in the future.
An Evergreen Platform
Features and functionality come and go, but the core mission of the training team remains – how to be an agent of leadership and change while supporting business objectives in the most efficient way possible. By investing in infrastructure, you can pick and choose the right pieces of software that match your current challenges.
What's the future hold for a training team invested in training operations infrastructure? How does interoperability between systems lead to efficiencies, analytics, and business intelligence that can inform business decisions as a whole? How will this approach facilitate digital transformation across the entire business?
Organizationally Relevant and Operationally Excellent
When properly implemented, a training operations platforms will help training teams achieve a much greater relevance within the organization because of their ability to provide access to metrics that are meaningful and can apply to challenges that aren't just training related.

A great example of this is ForgeRock, a fast-growing multinational software company that sells identity management solutions. Their training team has helped decrease customer churn and predict which customers were at risk of not renewing simply by providing training data to their internal renewals team. Customers who continued to take training and engage with their education offerings were much more likely to renew while the inverse was also true. This helped the renewals team focus on customers who might be at risk and dramatically cut their churn, a key metric for the business at large. Without flexible reporting to expose detailed training records to another team within the business, this key operational advantage would never have been enjoyed.
With improved operations comes the opportunity to improve overall. Almost universally, companies who implement a training operations platforms reinvest their saved time into product development and improvement. Their course offerings mature and improve, and they often begin to offer entirely new training content, which then fuels growth and better outcomes. We've often seen teams become more distributed as well, partly through growth, but also because they no longer need to be within the same room to collaborate and work together.
Access to Analytics to Inform Strategy and Implement Organizational Change
Data-driven business decisions are the goal of professionals everywhere but often remain elusive. For training teams, the lack of a system of record has long hampered their efforts, and this is one of the bedrock advantages that training management solutions provide – a platform that can be interrogated, shared, and analyzed.
"If you torture the data long enough, it will confess."

Ronald Coase, British Economist | Nobel Prize for Economics Winner
Many often equate business intelligence and analytics to dashboards and static metrics. While useful, this is only part of the discipline of managing a training operation through analytics. Instead of static reports and dashboards, leadership needs the freedom to iteratively interrogate the data to find answers to business challenges.  This discipline of easy querying, followed by fast results that can provide deep insight, is a key requirement of any highly functioning business, and training is no exception.
By implementing the foundations of training management, integrating with the rest of the tech stack, and leveraging analytics to find the answers to problems, training teams can implement strategic changes that not only affect L&D priorities but also influence the broader business.
Five Questions to Ask When Deciding if a Training Operations Platform is Right for Your Team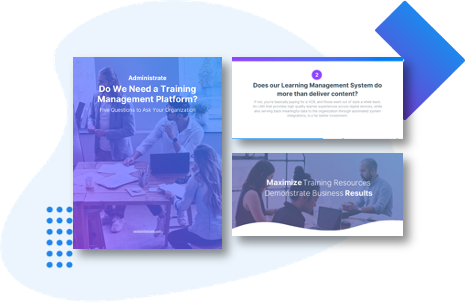 Curious about whether or not a training operations platform is right for your training program? Ask the five questions in this guide as you begin your inquiry.