Corporate training operations seeking an urgent solution to convert in-person training to virtual experiences have a new option. Administrate recently announced the launch of virtual instructor-led training (vILT) Rapid Implementation in response to COVID-19 and the impact it has had on training programs with in-person courses. Training operations can be live with vILT Rapid Implementation in as little as five business days.
In the wake of the coronavirus outbreak, many training operations are grappling with having to quickly adapt to the remote work lifestyles their learners have suddenly adopted. In response, Administrate has streamlined their implementation process in order to get training operations in need of a vILT solution for their instructor-led training (ILT) up and running in as little as five business days.
"Our mission has always been to support training providers and training operations across a variety of modalities. Rapidly transitioning critical classes into a virtual environment will be key during the times ahead, and we look forward to doing our part during this crisis," said Administrate CEO, John Peebles.
Due to the mission-critical nature of many in-person training courses, and the impact not being able to run them can have on a business, Administrate has made their existing, full-strength platform available for teams that need to convert their live programs quickly to an online environment.
vILT Rapid Implementation Includes:
Scheduling and tracking training events.
A branded student portal for ILT, vILT, and e-learning.
Automatic messaging for course reminders via text and SMS.
Automatic certificates issued for learners upon course completion.
An in-platform document management system for all course documents and materials with embedded version tracking.
Live course catalog and secure e-commerce functionality for selling courses online.
An industry-leading reporting engine to create advanced, customized reports against any data in the system.
Administrate's support team, with options for 24-hour, 4-hour, and 2-hour human response SLAs.
Significant expansion options for the future. Expanded use of the Administrate platform as business needs evolve.
With vILT Rapid Implementation, training operations can quickly convert their ILT content, so it's easily accessible online, allowing them to get back to delivering their vital learning and development courses.
For more information on vILT Rapid Implementation, visit: https://www.getadministrate.com/vilt-rapid-implementation/
About Administrate
Administrate's cloud-based Training Management Platform helps enterprises streamline their learning and development functions with comprehensive and configurable software. Hundreds of companies and thousands of users trust Administrate to manage their training operations and organize their learning resources so they can help millions of learners grow professionally and continue to adapt to the modern workforce.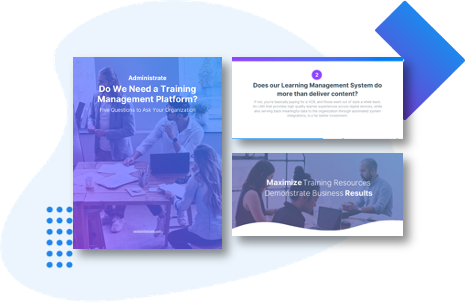 Curious about whether or not a training operations platform is right for your training program? Ask the five questions in this guide as you begin your inquiry.