Administrate is proud to announce we've been awarded as one of CIO.com's Top Ten HR Tech Providers for 2021!
This award is the latest in recognition of the continuous innovation we strive for with our training operations platform. It reiterates our commitment to supporting learning and development and HR professionals with the best possible software solution.
We are proud to support large enterprises like Brunswick, Royal Caribbean Group, CAE Healthcare, ForgeRock, and others in remaining resilient and future-proof against a rapidly evolving tech landscape.
Remaining Innovative to Support Agility and Flexibility for the Training Function
Administrate is driven by remaining consistently innovative to support enterprise training and HR professionals with learning tech infrastructure that supports adaptability, flexibility, and resilience. The significant challenges brought on by the acceleration of digital transformation, emerging technologies, and exponential human progress require these attributes as key markers of success.
Here are some of the highlights of our training operations platform:
Leverage Our No-Code Reporting Engine for Data Empowerment
Administrate's rich data model has always made it possible for training and HR teams to report on training outcomes and how they impact the bottom line of the business. This means you can report on the correlation between key training and performance initiatives and organizational objectives with ease. Leverage our no-code reporting engine to report on 100% of the data Administrate touches on the fly – via deep, configurable integrations to HRIS and key L&D systems – without relying on developer resources.
Manage Complex Training Logistics in a Single Platform
Learning tech should adapt to your organization and your team. With Administrate's powerful scheduling functionality, which syncs data across learning and business systems into one platform, your team can coordinate complex training logistics like work patterns, shift schedules, vendors, equipment, instructors, classroom space, and necessary course documents in one calendar. Say goodbye to those long scheduling and training logistics sessions.
Access the Freedom to Build with Robust Developer Tools
Administrate's developer tools give IT and training teams the freedom to build the solutions that matter most to them, with a modern GraphQL API, webhooks, custom UX triggers, Enterprise Service Bus, and a developer portal. It's why developers love Administrate. We also offer expertise in professional services to build custom integrations for a deeply integrated learning tech infrastructure.
The Only Interface You Need to Manage 100% of Your Training Operations
Training Operations Platforms: How Learning Tech (Finally) Adapts to Your Organization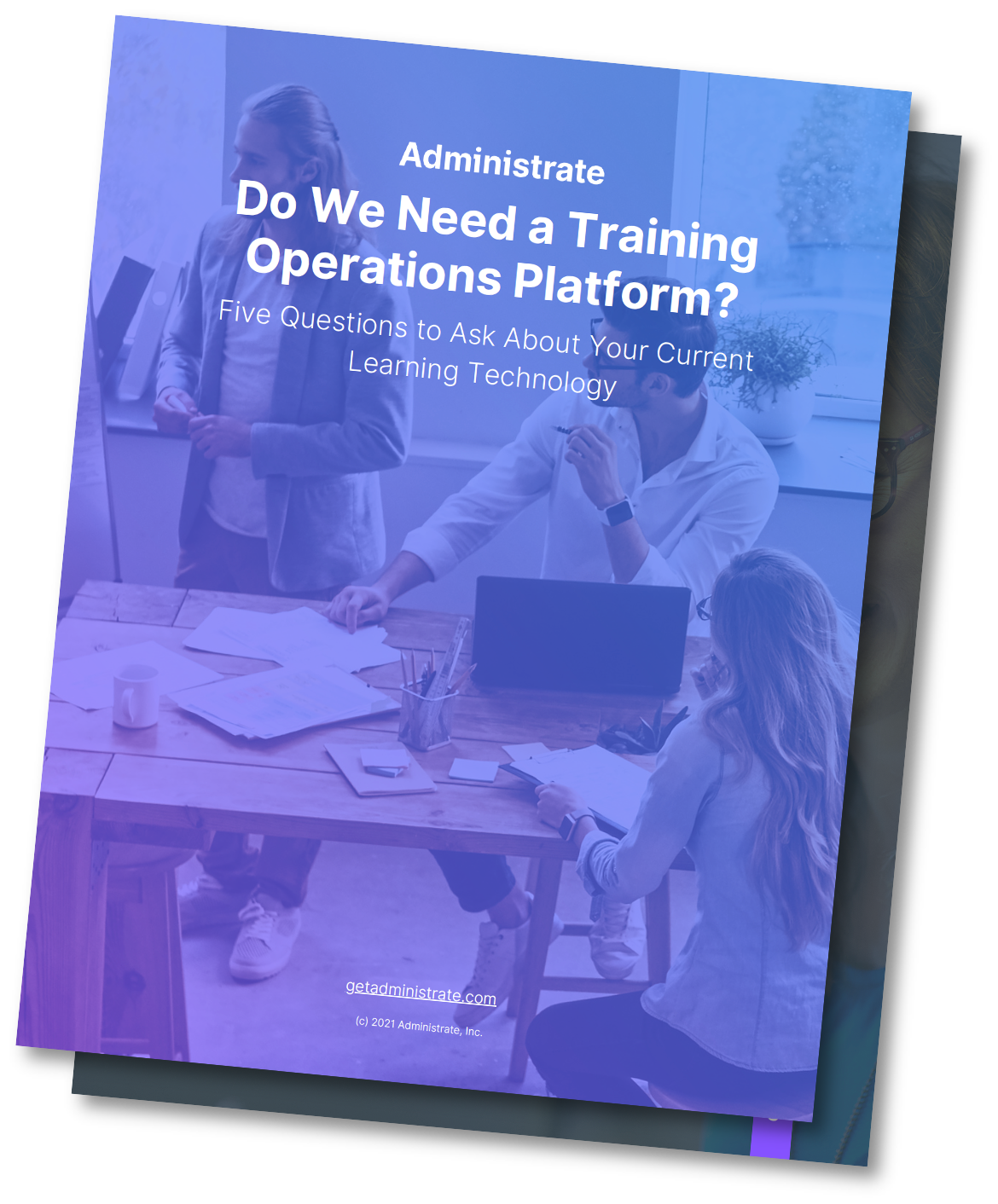 If you're interested in learning more about training operations platforms, you can start with this guide. Your team will explore the five critical questions to ask about your current learning tech as you begin your inquiry into training software built for digital transformation.