Buying new software for your training business is a big decision and one that you need to make sure you are entirely prepared for.
A vital part of the process is also the relationship you build with your software vendor. The implementation process of bringing new software into your business could be long, and you need your software decision to be the right one to ensure you are making cost-effective decisions for your business. Therefore, you need to be asking your software vendor the correct questions right from the start to make sure you are getting the perfect software and the ideal vendor for your training business.
1. How Much is the

Vendor Investing in the Development of Their Product? 
It's worth asking how much your software vendor is investing in the development of their product on a regular basis, as this will give you a good indication of whether they are likely to spend a lot of time in creating new features or implementing changes as you continue to use the product.
If less than half their company is Product and Engineering, for example, then the product is probably in maintenance mode. This means that any work that is happening on the software will likely be aimed at fixing bugs, making sure nothing is broken, and ensuring that all current customers can use the software as expected.
This does mean, however, that the software you buy is likely to be the software you are stuck with for the foreseeable future, as your software vendor doesn't have the capacity or the staff available to make improvements to the product.
2. Is Your Vendor Only Giving You Quick/Short Answers? 
During the purchasing and implementation process, you'll spend a lot of time with your software vendor discussing your setup process and your company's software needs. This is the perfect time for you to ask loads of questions, get the answers you need and allow your vendor to become familiar with your training business.
However, this process is a two-way street, and your software vendor needs to be fully engaged for you both to get the most out of it. If they're not telling you things like "no," "I don't know, but I'll get back to you," or "Can you explain that a bit more?", then chances are they aren't fully engaging with the process. If all you're getting is quick answers or continually being told "Yes" all the time, then this could be a sign that the vendor either isn't being entirely truthful with you or perhaps they're not spending the time to dig into things as they should be.
3. What Will Your Support Access Look Like? 
Before you commit to a piece of software, it's essential to find out what support access you will have going forward. This is vital because you and your team need to know what level of help you can expect from the software vendor if something goes wrong or if you have a question that needs addressing.
Make sure you're clear on whether you will have access to both product support (a help desk) and business support (a dedicated Account Management team) once you are up and running with the vendor. Without both avenues for assistance, you may find that you're not getting maximum value from the product.
4. What Does Customization Look Like?
Over time, you'll want to configure the product to match how you work.  Sometimes you may even need to support business processes that won't ever be built into the product because they're so specific to you and your business. Do you have an avenue to achieve this type of work? The existence of a Professional Services team who can do this work for you will be critical in most cases.
5. Are you Buying a Platform or a Product?
Some software companies sell products, built to solve specific problems, and often in a very focused manner. Other companies build platforms, which will solve specific problems just like a product but will also have the ability to integrate with other products and serve as a lynchpin for your current and future needs (which you may not even know about today). Platform companies will often have a robust Product and Solutions teams that you can talk to and ask about their future roadmap and strategy.
6. What Does an Implementation Look Like?
All vendors should have a standard implementation plan that serves as a starting point, but make sure you ask about the people who will assist with the implementation. Expect to see a Project Manager, Analysts who can assist in data migration duties, and a Solutions person who can design complex solutions to solve your challenges as part of the team who will help you get up and running.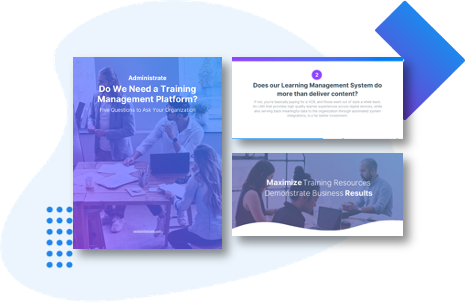 Curious about whether or not a training operations platform is right for your training program? Ask the five questions in this guide as you begin your inquiry.