A Seamless Integration with Full Functionality
Digital transformation is upon us. Many training programs have had to juggle training in response to people working from home and this response has had wide-sweeping impacts on the way training operations deliver courses to learners. In-person instructor-led training classroom settings have largely been replaced with virtual classrooms–and virtual instructor-led training–and enterprise learning and development teams have had to adapt the way they reach their learners with critical training.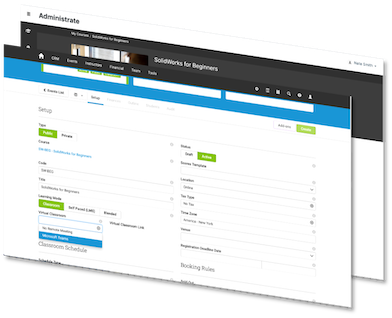 Whether your training operation focuses on delivering training to customers to increase customer satisfaction, courses to partners to ensure their competence in delivering your solution, building robust learning paths for internal departments, or all of the above, you've likely had to adapt to a virtual classroom setting.
It's for all of these reasons that Administrate is proud to announce a new Microsoft Teams integration with our Training Management Software.
Virtual Classrooms for Organizations Using the Microsoft Suite
With the Microsoft Teams integration, organizations accustomed to using the Microsoft suite can now create an automated link to virtual classrooms, in the Administrate platform. When creating your courses, it's as easy as enabling the sync with Microsoft Teams. From there, the Administrate platform will automatically sync with Microsoft Teams and create a link to a virtual meeting room based on the date and time of the course you're creating.
---
Our Team Can Get You Started with Microsoft Teams!

We're a dedicated team that's passionate about making lives better through training software. Get in touch with one of our team members today!
Get in Touch
---
Include Virtual Classroom Links in Your Learner Communications
When using Administrate's automated learner communication triggers, you can ensure that a link to your virtual classroom with Microsoft Teams is included. Use merge fields to automatically add relevant course information in your learner communications–both SMS and email–including joining instructions for your virtual meeting room.
Automated Sync with Your Outlook Calendar
The Microsoft Teams integration with Administrate also supports automated link and course name syncing with your Outlook calendar. When you create a course event with the sync enabled, the Administrate platform will automatically be added to your team's Outlook calendar so you can keep your instructors and learners informed.
Integrating Your Virtual Courses with Training Management
Administrate has long been a provider of integration with Zoom to accomplish the same level of control over your virtual meeting rooms, and to help you more easily manage your training resources. Now that Microsoft Teams is integrated with the Administrate platform, enterprise training teams that depend on the Microsoft Suite to do business can more effectively access, share, and edit Microsoft Word docs, Powerpoint presentations, and Excel files in real-time while video conferencing.
Explore the full Microsoft Teams integration.
Microsoft Teams is Ready. vILT Can Be Too!
Launch in as little as five business days.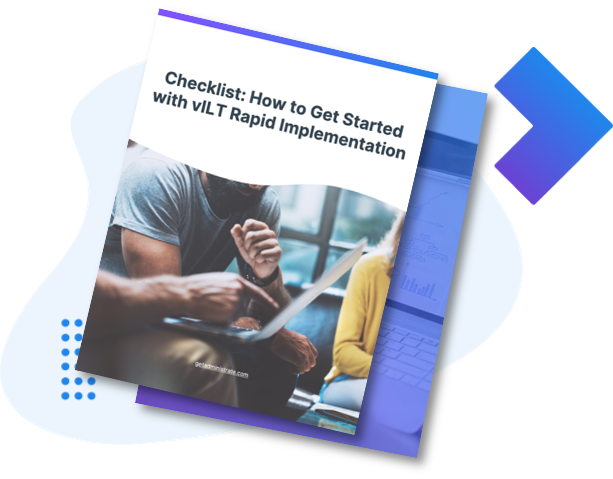 With vILT Rapid Implementation, your organization can get up and running with virtual training rooms in as little as five business days. Click the link below to discover the power of vILT Rapid Implementation from Administrate.