Maximizing learning analytics to impact organizational outcomes is top of mind for most training leaders. However, without a learning technology ecosystem, it's hard to illustrate how learning metrics are connected to organizational measures of success. In this post, I discuss the value of a learning technology ecosystem in helping your training team tell the story of how your learning analytics impact the bottom-line objectives of your organization.
At Administrate, we work with enterprise training leaders every day. As a training management solutions expert, I get to work with training teams across a wide variety of industries with diverse challenges. However, many of the challenges I hear about on a daily basis tend to have a similar root problem, a level of complexity which makes them so difficult to solve.
Any guesses as to what that root problem is?
Most L&D Teams Rely On Disconnected Systems to Tell Their Training ROI Story
Sound Familiar?
When your training team has to rely on several software solutions to handle course and instructor schedules, multi-modal training delivery, resource management, document version control, and employee records – and when none of these systems are integrated – it's very hard to tell a cohesive story about how the investment in training impacts your organization.
How are you supposed to know if you're actually solving the mission critical problems of talent retention, customer satisfaction, support team ticket accuracy, and partner referral revenue if the reports and data you have access to don't share the whole story?
We see this issue of data integrity with learning analytics, and a lack of relationship between data sources, across training teams. Solving this issue takes a lot more than just reporting on the right metrics – it takes a reframed mindset and a new class of learning tech: a training management platform that can support your learning technology ecosystem.
The Problem with Disconnected Learning Technology
Insights from a Training Leader About the Gaps in L&D Data
Recently, I was having a discussion with a Director of Training that I think really speaks to this challenge training teams face with their learning analytics. His organization was trying to address issues with employee turnover, and he felt like he was hitting a wall when analyzing the learning metrics he had readily available from his LMS and HRIS.
He was able to report on the activity metrics of employees completing their onboarding, passing with high scores, see certifications being earned in his HRIS, and share survey results with key organizational stakeholders. Yet, employee turnover rates remained largely unaffected.
You can imagine the frustration he was feeling when he was trying to make a game plan. The data he was capturing wasn't giving him any indication of what to change. Or, just as importantly, what NOT to change.
So many leaders bump up against this same limitation, and I was excited to share that there is away around this now. It starts with a change in mindset and moves toward a new level of ownership and control over your learning technology. At Administrate, we refer to this as the learning tech ecosystem.
The Mindset Shift Behind Training Management Platforms
Telling the Story of Training's Impact with a Learning Tech Ecosystem
Think about the disciplines of Sales and Marketing and how their technologies have evolved to integrate with other critical systems throughout the organization. These teams are able to easily access actionable insight from a single source of truth in platforms like HubSpot, Marketo, and Salesforce, every step of the way. They are able to see, instantly, what is working and what is not, and leverage robust reporting features to rapidly iterate on their initiatives so they can better support organizational outcomes. These platforms serve as a holistic environment for the commercial business function, connecting various efforts while keeping individual, tactical outcomes reportable.
This is the mindset and software shift that is starting to happen for corporate L&D teams, and it's pretty exciting! Business Intelligence for enterprise training relies on an infrastructure that can support your entire learning tech ecosystem. When you can pull data from your disparate learning technologies, HRIS, finance tracking systems, and more, and compile all of the data into a single platform, it starts getting a whole lot easier to tell the whole story.
A Learning Technology Ecosystem in Action
How Boston Whaler Solved Employee Turnover
Looking back at the conversation I mentioned above, it's striking how similar Boston Whaler's situation was. There was very little insight into their onboarding process and career trajectory because their HRIS and training systems didn't sync and share data.
Boston Whaler identified training as a competitive advantage and realized talent retention through training was the key to their long-term growth and scalability. They came to Administrate and implemented our training management platform, so they could integrate all of their critical learning tech and training operations into one system.
By doing so, they were able to demonstrate that the length of a learner's employment, the number of promotions they had received, and the amount of training they had taken were directly correlated to when an employee was most likely to leave the organization.
Equipped with these pinpointed stressors, Boston Whaler's HR team was able to implement unique strategies in the onboarding process, gain insight into how training lead to promotions, and ensure employees were on a career path that was going to make them happy while remaining key contributors to the growth of the organization.
At the end of the day, as L&D leaders, human resources are our greatest asset. Boston Whaler leveraged a learning technology ecosystem approach and Business Intelligence for enterprise training to realize noticeable performance gains through professional development and onboarding.
Getting to tell their commercial leadership that they reduced turnover from 50-60% to 5-10% was a pretty good outcome, as well.
---
Read the Whole Boston Whaler Story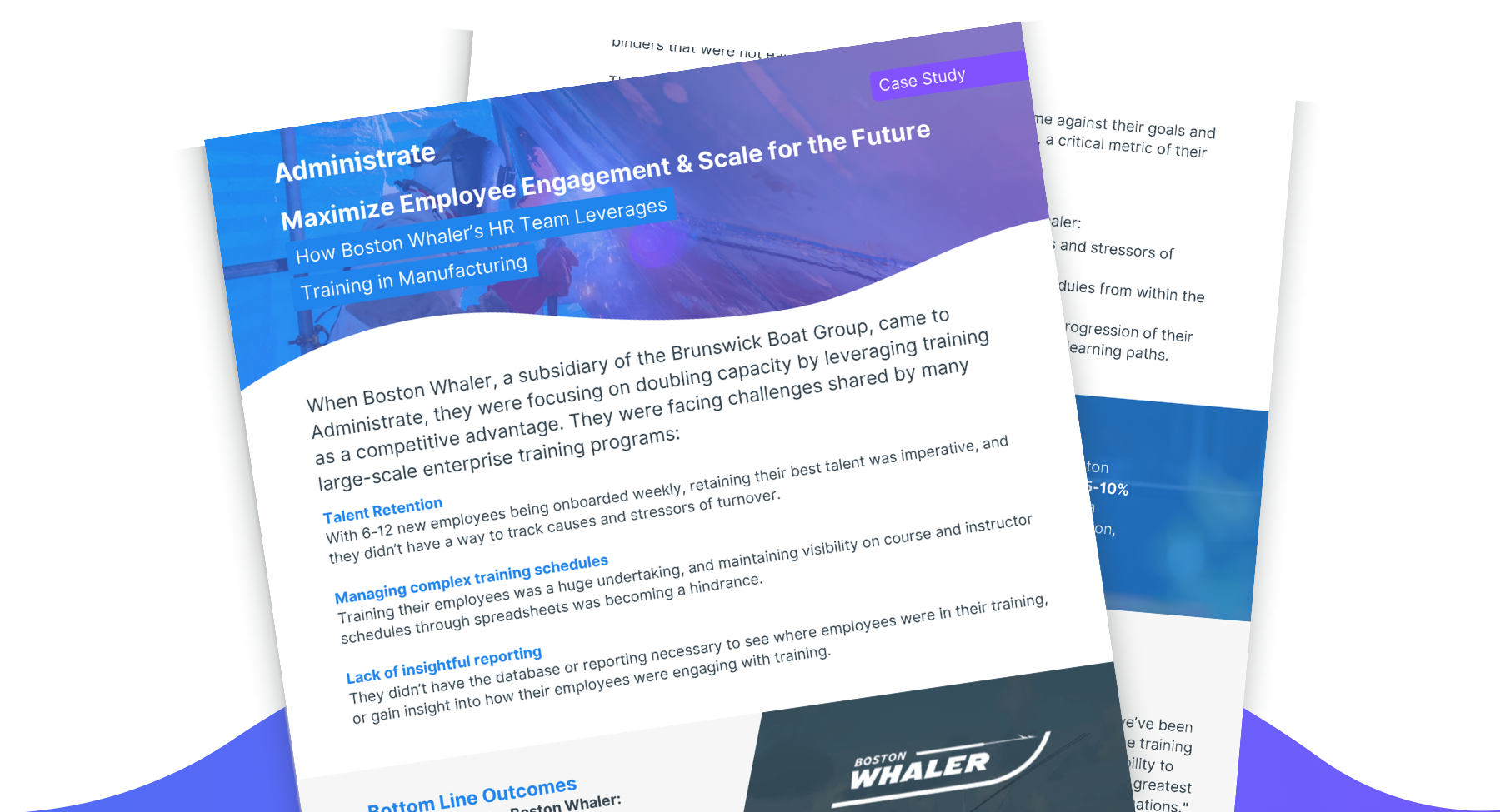 Every limitation is an opportunity waiting to be discovered. I love having these conversations with training professionals like yourself, and would love to talk more with you about how a refined mindset to training management can help your training team solve problems that have a profound impact on your organization and your people. You can reach me directly by scheduling a meeting on my calendar.