How it Works
Microsoft Teams is the video conferencing tool of the Microsoft 365 suite. Access, share, and edit Microsoft Word docs, Powerpoint presentations, and Excel files in real-time while video conferencing. Whether you have a meeting of 10 people, or 10,000, you can all meet in one place, no matter where you are.
With Administrate's integration, a training administrator can add a Teams meeting to a scheduled event automatically and make the joining link available to the primary Instructor and all registered Learners.
Integration Summary
With the Administrate integration to Microsoft Teams, you can set up virtual instructor-led training meeting rooms with ease, and add them to your scheduled training.
Vendor: Administrate
Requires: Administrate & Microsoft 365 Business Basic or Higher
Virtual Instructor-Led Training for Organizations Using the Microsoft Suite
With the Microsoft Teams integration, enterprise training programs that leverage the Microsoft 365 suite to do business can now quickly and easily create virtual instructor-led training rooms and automatically add the links to these meeting rooms on their courses.
If your team prefers Microsoft Teams for virtual training, leverage this integration to automate online meeting room links when you're creating your blended or vILT courses.
Leverage the Integration in Learner Communications
When you create your course, the link to the virtual meeting room will be saved by Administrate.
Use merge fields to automatically add relevant course information in your learner communications, including joining instructions for your virtual meeting room.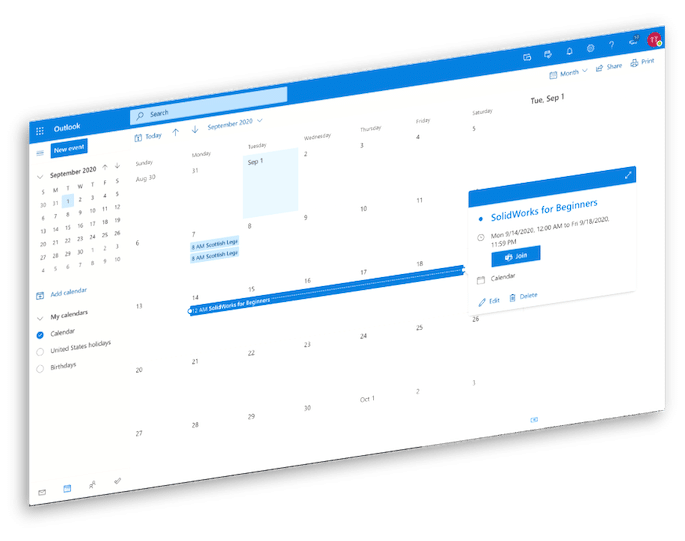 Automatically Add the Link to Your Outlook Calendar
When a course is created in Administrate with a Microsoft Teams sync enabled, the link and course name will automatically be added to the instructor's Outlook calendar.
Keep learners and instructors informed of the virtual instructor-led courses on the horizon.
Setup Microsoft Teams for Administrate