Training professionals are tasked with delivering a comprehensive set of outcomes–talent retention, customer satisfaction, partner competency, compliance certifications, and onboarding paths, to name a few–so, they require a comprehensive learning tech ecosystem.
The LMS is just one part of this learning technology ecosystem, supporting your training team with the ability to manage eLearning. However, in order to deliver on the complexity of those outcomes, it's likely you have to use multiple training modalities in order to:
maximize in-person knowledge transfer from subject matter experts.
support the professional growth of leaders with self-paced learning.
reach people working remotely, and from home, with engaging vILT.
provide opportunities for further exploration with blended learning.
An LMS can capture the self-paced and online learning modalities, but it's limited (at the very least) in delivering training against your other modalities, which are just as important. How will you, or do you, manage training that needs in-person delivery? Turning to yet another single-solution software isn't the best answer available.
The LMS Was Designed to Deliver Content, Not Manage Your Training Program
An LMS has limits and gaps, and your team likely spends a lot of time trying to fill in those gaps and cover for those limitations with spreadsheets, manual processes, and a genuine enthusiasm toward wishing learning technology solutions had something better to offer.
Training at the enterprise level is intricate, and historically training software hasn't been able to keep pace with the evolving complexity of the L&D function.
While your LMS is a valuable piece of your learning tech landscape, it's the perfect example of training software that was developed for a specific purpose (to serve organizations trying to reach learners in an increasingly digital landscape). Yet, it lacks the ability to support training teams with managing their operations, delivering all modalities, connecting training to business outcomes, and scaling as training is increasingly relied upon to affect change.
Does this all feel familiar?
How Training Software Helps You Create Margin for Strategy
The growing need in the learning tech landscape is for software that drives strategy through efficiency. An LMS is certainly a good step in the right direction because it straddles the line between user experience and the delivery of training content; however, it lacks seamless automation capabilities with the rest of your learning technology stack.
This is important to note because many training teams aren't even aware that this sort of deep integration and efficiency through automation exists in learning technologies. If the rapid growth of your organization is tasking your training function with adopting new ways to deliver training–new ways of reaching geographically dispersed learners with growth and development opportunities–then connecting the delivery of those modalities with your other critical software could be a game-changer for your team.
---
Discover what's possible when ALL of your learning tech systems are connected to one another. Evaluate training management software with this guide.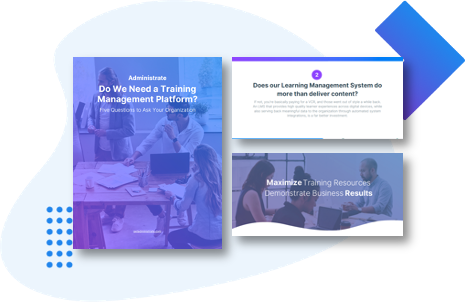 ---
The last thing you want is for your learning technology to get in the way of your strategy. Yet, that's what often happens when the training team has to spend a good chunk of their time manually connecting systems, managing schedules, copy and pasting learner communications from a spreadsheet, or spending pain-staking hours crafting a report to connect training activity to organizational KPIs. The LMS just wasn't built with these considerations in mind.
Simplifying the Complexity of L&D with Training Management Software
In many respects, training management has taken a back seat to learning management recently. The industry of more than 1,200 LMS solutions on the market today clearly states the priorities of the training industry. Yet, an important and often overlooked component of delivering training is what it takes, behind the scenes, to create, facilitate, and support a quality learning experience.
Building Engaging Learner Experiences with Training Management Software
Training management plays a significant role in employee and learner engagement. This engagement is at the core of learning management, and what an LMS was designed to support. However, the LMS has not taken into consideration the operational side of delivering training. While it excels in delivering online learning, and even managing certain aspects of the online learning experience, it lacks the ability to manage training across formats, draw correlations between training activities and business outcomes, and create sustainable cohesion between your training software.
Training professionals require these features in today's complexity, and will require the agility to adapt to new circumstances. This is especially pertinent if you consider how 2020 showed us that "some day" agility needs could realistically happen "any day." We may not be able to plan for specific initiatives, but we can plan and know that change is coming and is often rapid. This is why recent innovations in learning tech have led to the rise of the training management platform, cloud-based software designed to be a single system of record for enterprise training.
Training management software is where all of your critical systems intersect. This deep integration allows your team to build customizable reports to connect training to business outcomes, manage complex course and instructor schedules automatically, create training events from course templates, and scale your training alongside your organization.
Can Your LMS Scale with Your Training Strategy?
5 Questions to Examine the Limits of Your LMS
Be ready to level-up this year. Evaluate your LMS. Here's how you can. We've created a list of questions to help you do it. This list comes from our customers, all of whom found themselves pushing their LMS to its limits.