Bad habits are something we can all slip into quite easily, but bad habits at work can mean wasting time on pointless tasks, creating inefficiencies, and having to suffer through dull activities.
Sometimes you don't even realise that you've let a bad habit creep into your work life until someone points it out to you, and that's why we're here!
We've picked our top five training department bad habits and how a training management platform like Administrate can help you tackle them!
1. Sending Emails Manually
There's no avoiding the number of emails that you have to send as a training department, but there are ways to make the tasks much easier to manage. If you're sending them manually, even if you are copying and pasting the content, you're wasting a tremendous amount of time and probably giving yourself some nasty hand cramp into the bargain.
You're also leaving yourself open to lots of chances for human error, as you need to make sure the emails addresses, names, and other changeable details are correct as you copy them from various places.
Why make a tedious job more complicated than it has to be when you could be using a training management platform's automated email function to manage the entire thing for you?
First things first, you can create email templates for every email you need to send as a training department. This can cover things like training course start dates, any training materials required for the course, lunch arrangements during the course, or follow-up material after a course has finished. You'll be able to create as many templates as you need for your training department, with the ability to add, edit, and delete any of your templates at any time. You can also use merge fields so your emails will be automatically populated with the relevant data, such as email address, name, and course details.
Once all your templates are in place, you can set up email triggers to send the emails whenever you need them to. This can be on a specific date, or a set time before or after an event, to make sure your learners always get the relevant emails exactly when they need them.
Once everything has been set in place, you'll never need to worry about sending a bulk email again, as your training management platform will take care of everything for you.
2. Entering Course Info from Scratch
Another task that you might be doing from scratch but could be made so much easier is entering your course information into your training management platform. Chances are you run multiple sessions of the same training course over a period of time, and you're spending a good deal of time copy and pasting the same information over and over again to get them all entered into your system.
Administrate's training management platform gives you the ability to create course templates, meaning you can template all the standard information for each training course you run. This will be things like the course details, the qualification achieved, how long it runs for, the assessments that need to be completed, etc. This means when you set up a new instance of the course, you can choose one of your templates, and then all you need to enter are the changeable details such as the time, date, and location.
As with the email templates, you can set up as many templates as you need, so you'll always be prepared no matter how many courses you offer.
3. Manually Compiling Reports
Reports are a vital part of any business, but they can be time-consuming, complicated, and a bit dull to pull together in some instances. However, they need to be done correctly and on time, so make sure you're utilising your training management platform in the best way possible and make use you're using your reporting system to its full potential.
First of all, you need to be able to customise your reports to show exactly the information you need. Every business is different, and dealing with a reporting system that makes you adhere to pre-set fields isn't helpful to anyone. Administrate allows you to create your reports using any of the information you've already entered into the system, so every report you create can be different and will always show exactly the information you need.
The best part about our reporting system is the fact once you've set up your reports, you will never need to compile them manually again. How good does that sound? Every time you open the report within Administrate, it will always show the most up-to-date version of the information. You can also set the report to send to you and anyone else who needs to see it on specific dates, so everyone has easy access to the information, and you can keep certain copies of the report for your records if you need to.
4. Creating Staff Training Plans Offline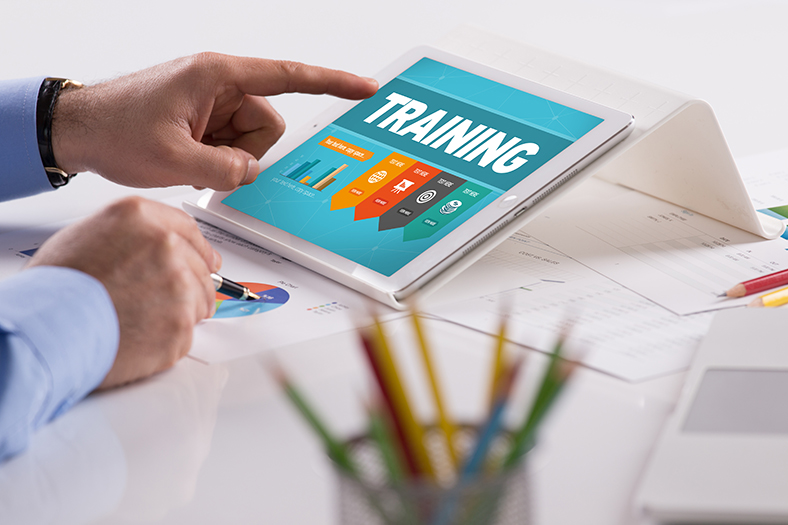 Training plans are a necessary tool for training departments to ensure that all your team members are getting a training journey which is tailored to them and reflects the skills and knowledge they need for their job.
However, if you're creating training plans in Word documents or giving your team psychical copies of their training plans for reference, you're making things more challenging to manage for both your Internal Training team and your learners.
Ideally, your training plans need to be created online, using a feature such as Administrate's learning paths to get the most use out of them. Learning paths mean you can quickly add training you already have scheduled to each learner's learning path, which will cut down on the manual work you have to do, and eliminate the need to do things like email the training plans to staff members individually or print them out to hand to people.
Storing them online means that your learners and your Internal Training team can access them and update them whenever they need to, and everyone will always be working from the same point of reference, so there should never be any confusion about someone's training progress.
5. Forgetting to Ask for Feedback
We know you probably know feedback is vital in any business, but we also recognise that you may think it's a lot of work and effort, and so it might be one of the tasks that tend to slip when your department is busy.
As with lots of other manual tasks, Administrate can take the headache out of feedback and automate the whole process for you, so you don't even need to remember to ask for it!
First of all, you can create custom surveys using our SurveyMonkey integration. This ensures you're asking the exact questions you need feedback on according to your business and how you deliver your internal training. You can then add this survey to an automated email which will send automatically after a learner has finished a training course. When they respond to the survey, the responses will be pulled back into Administrate and stored for future reference. This means you can then use our reporting system to report on the responses, and use the feedback to make changes to your training offering for the future.